I'm a huge fan of food. I love any good, honest food. It can be the fanciest meal of my life or a simple sandwich - as long as I can taste the honesty, the heart and soul in that food, I love it and it will become a favorite forever.
One such food and top 10 all-time favorites for me is the Philly Cheesesteak Sandwich. It's perfect: good fresh bread, steak, cheese. Period. Because it's so simple, it's easy to screw up and I've had the displeasure of having many an inferior cheesesteak. However, in a surprising turn for the typical mundane culinary lifestyle that is OC, there is a gem in Aliso Viejo: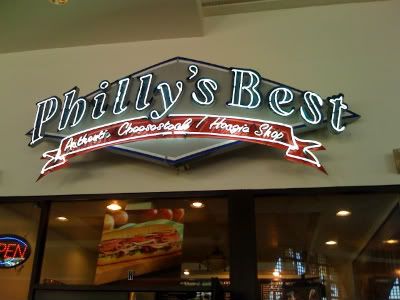 Philly's Best Cheeseseak and Hoagie Shop is in one word: authentic. The owners pride themselves on flying in daily almost all ingredients, including the hoagie, steak, chips and even drinks straight from Philly itself. I can appreciate that kind of dedication to perfection. Bottom line, no matter how you want to slice it (pun intended), you gotta have honest and authentic ingredients to produce an honest and authentic product. And I would gladly pay twice the amount they ask for a cheesesteak because
it's that good.
Here's their steak and whiz:
Thinly sliced steak with creamy and mild hot cheez-whiz sauce on warm, fresh hoagie is all you need. There's a debate in Philly on what's the better sandwich: steak and whiz or steak and peppers (steak with sauteed bell peppers and provolone cheese sauce). Some, like me, enjoy onions with the peppers too. Whatever you do, make sure you use appropriate cheesesteak etiquette:
Cheesesteak with Cheese Whiz: "Get me a steak-and-whiz!"
Cheesesteak with Peppers and Provolone Cheese: "I'll have a steak-and-peppers!"
Above with Onions: "I'll take a steak-and-peppers-add-onions."
You will be respected, as I was, if the place is legit. And that look of "hmmm...she knows her steak" will feel very gratifying.
Appropriate condiments to the cheesesteak include pickles and hot peppers. Please don't destroy it with ketchup or mustard - that's like putting ketchup on fois gras. It's criminal and should be punishable by death. Beer or soda go great as libation. This is no time to have a glass of bordeaux.
And if you haven't had one, please go try one. I guarantee it will become on of your top ten favorite foods too.