My friend Rogers has a terrible affliction. He's allergic to onions (!). That means no Vidalias, no leeks, no wonderful sauteed or caramelized goodness for him. This presents a bit of a culinary challenge, since onions are often the base for many dishes. Diced small alongside carrots and celery, it helps form the mirapoire which is the base of most French cooking. In the south (where he's from), the carrots are substituted with green bell pepper to make "the trinity" which is the base for all gumbos and jambalaya. Nope, my friend can't even eat the milder shallot so that means no oysters with mignonette sauce for him, and he even skips out on the chives garnish for a traditional baked potato.
Rogers asked me for some recipes for when he comes home from Iraq in a week. Admittedly, I'm sort of an onion fan myself, so I looked through all my books to see what I could find to help him out. Emeril was out, but good old Ina Garten comes through in a pinch. Here's her recipe from her Barefoot Contessa Family Style cookbook for a standing rib roast with accompanying mustard horseradish sauce (or stilton sauce), and my recipe follows for simple and delicious roasted herbed potatoes. Add a bottle of cabernet and you've got yourself one hell of a Welcome Home meal.
Sunday Rib Roast
(as featured in
Barefoot Contessa Family Style
)
1 3-rib standing rib roast (7-8 pounds)
1 Tbsp kosher salt
1.5 tsp freshly ground black pepper
Two hours before roasting, remove the meat from the refrigerator and allow it to come to room temperature.
Preheat the oven to 500 degrees. Place the oven rack on the second lowest position.
Place the roast in a pan large enough to hold it comfortably, bones side down, and spread the top thickly with the salt and pepper. Roast the meat for 45 minutes. Without removing the meat from the oven, reduce the oven temperature to 325 degrees and roast for another 30 minutes. Finally, increase the temperature to 450 degrees and roast for another 15-30 minutes, until the internal temperature of the meat is 125 degrees. (Be sure the thermometer is exactly in the center of the roast.) The total cooking time will be between 1.5 and 1 3/4 hours.
Remove the roast from the oven and transfer it to a cutting board. Cover it tightly with aluminum foil and allow the meat to rest for 20 minutes. Carve and serve with the sauce.
Mustard Horseradish Sauce
(as featured in
Barefoot Contessa Family Style
)
1.5 cups good mayonnaise
3 Tbs Dijon mustard
1.5 Tbs whole grain mustard
1 Tbs prepared horseradish
1/3 cup sour cream
1/4 tsp kosher salt
Whisk together the mayo, mustards, horseradish, sour cream, and salt in a small bowl. Serve at room temperature.
Oven Roasted Herbed Potatoes

20 small new potatoes (gold or red)
2 Tbs olive oil
kosher salt
freshly ground black pepper
1 Tbs fresh rosemary sprigs, chopped
4 sprigs thyme, leaves removed
3 large cloves of garlic, minced
Preheat oven to 400 degrees.
Scrub the potatoes to remove an dirt and pat dry with a paper towel. In a large bowl, toss the potatoes with the olive oil and sprinkle generously with salt and pepper to taste. Place on a baking sheet and spread out evenly. Roast in oven until potatoes are tender and can be pierced easily with a fork or toothpick, 30 - 45 minutes. The cooking time will depend on the size of the potatoes; larger potatoes will take longer to cook than smaller ones. When done, remove and place potatoes back into the bowl they were tossed with the olive oil in. With the potatoes still hot, add the herbs and garlic and another light drizzle of olive oil and toss to coat. Serve.
My Notes:
When choosing potatoes, choose them the same size so they will all cook evenly. You don't want a tiny potato burning while the huge one next to it is still cooking. Also, you can cut larger potatoes in half or even quarters to get an even size. I like using gold "new" potatoes. They look like this: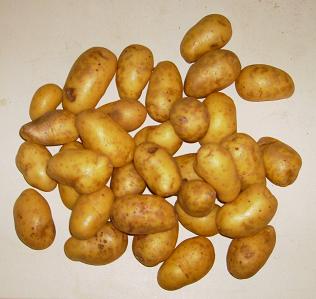 They usually come in red or gold as seen above. You choose one or the other, or do a combination of both which is really pleasing to the eye.
If making both of these recipes, you should do them in separate ovens if possible. If not, then make the potatoes a head of time before you put the rib roast in the oven. Then while the rib roast is resting for 20 minutes, return the potatoes to their sheet pan, cover with aluminum foil and let warm in a 300 degree oven until you carve the roast. By that point the potatoes will be nice and hot again and the roast will be perfect serving temperature as well.
I made this rib roast recipe for Christmas last year and it came out beautifully. I made it for just Andrew and I, and had a huge amount left over. If you go to a butcher, you can ask them to cut the rib roast in half or even by rib to accommodate the amount you need. So if you're serving 6 people, you might want a 4-6 rib roast which is about a third of the size of a 7-8 pounder this recipe calls for. Don't be afraid to ask your butcher to help you out! That's why they're there!